Python Flex TPU 98A is a flexible type of 3D printer filament with a shore hardness of 98A and is perfect for 3D printing strong and resilient parts that require flexibility and elasticity.
Python Flex TPU 90A is a very flexible type of 3D printer filament with a shore hardness of 90A and is perfect for 3D printing strong and resilient parts that require both flexibility and elasticity.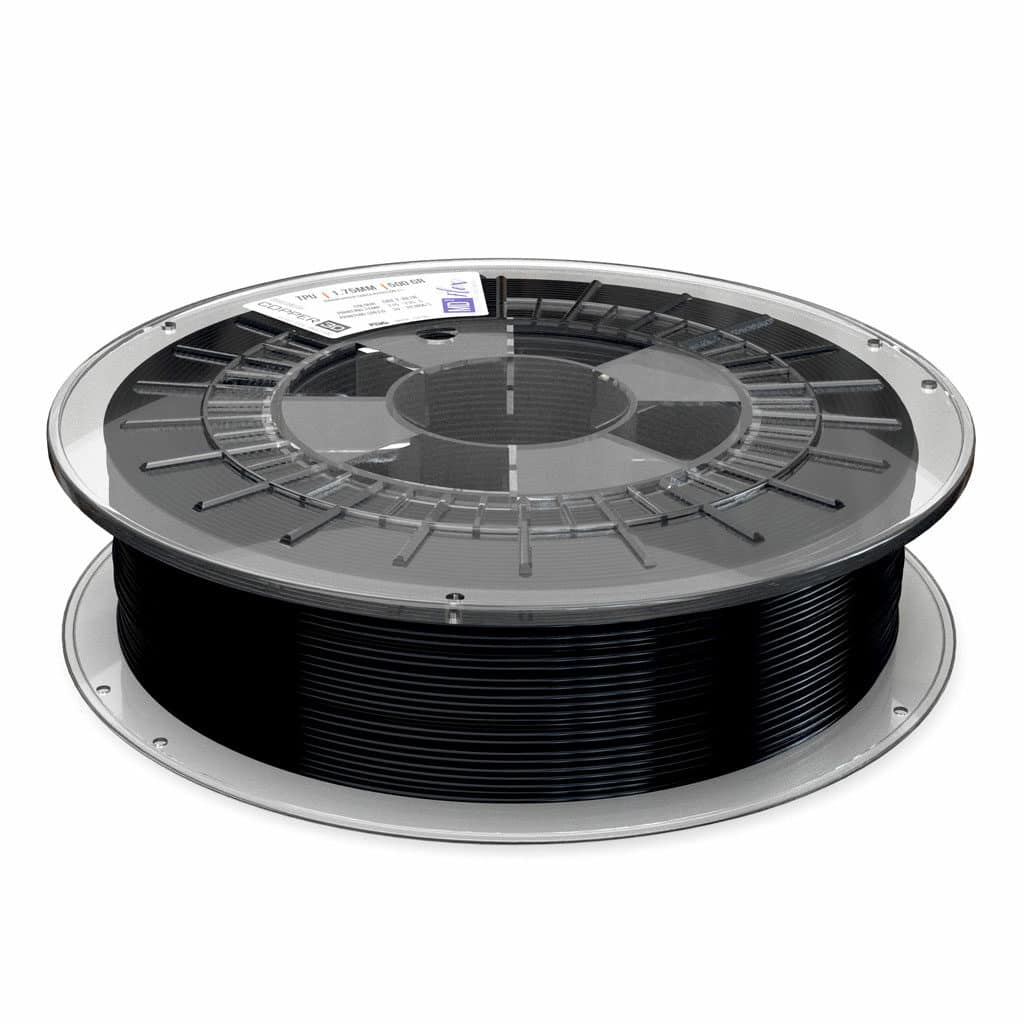 MD Flex is a flexible TPU type of 3D printer filament enhanced with a patented nano-copper composite that eliminates more than 99.99% of fungi, viruses, bacteria and microorganisms.
 TPU filament
What is TPU flexible filament?
TPU 3D printer filament is a flexible and rubbery filament that is regularly used in industrial products. It is wear-resistant and easy to recycle. Interested in how to print TPU filament? Keep reading!
TPU is a soft and flexible filament that is easier to print than flexible TPE filament. In addition, TPU has excellent layer adhesion and virtually does not deform during the cooling process.
TPU (thermoplastic polyurethane) is a widely used filament for applications requiring a flexible material. Moreover, it has a print temperature of about 220 to 250°C and gives the best results at a print speed of more or less 20 to 30 mm/s. To prevent the material from bending or being pushed in the wrong direction during 3D printing, you should use a direct drive extruder that supports the TPU material as much as possible.
What mostly sets TPU apart from other 3D printing filaments is its previously mentioned flexibility and rubber-like properties. In addition, TPU flexible filament also has a matte appearance that is available in many different colors.
Also, TPU cannot dissolve and is very resistant to greases, oils and chemicals so there are a wide range of application possibilities for TPU. Also, this filament is highly resistant to both high and low temperatures.
Always store TPU in a dry place and preferably in a sealed bag with moisture absorbers or silica gel to prevent holes in your 3D prints.
What are the advantages and disadvantages of TPU filament?
Advantages
TPU is a very easy filament to recycle once your product has reached the end of its lifespan. Furthermore, its iconic elasticity and rubber-like properties make this filament a no-brainer for products where flexibility is required. Moreover, a heated bed is not neccesarily required thanks to the excellent layer adhesion of this 3D printing filament. If however, you do choose to use a heating bed you should set the temperature between 60 and 100°C.
Last but not least, it also has excellent mechanical and chemical properties. Namely, TPU has excellent abrasion resistance and has a great resistant to fats, oils and chemicals.
Disadvantages
TTPU is a great filament but, there are some drawbacks. For example, when printing with TPU 3D printer flexible filament you do need to print at a slower printing speed compared to other 3D filaments in order to get the best results. TPU also requires a higher printing temperature compared to other 3D filaments.
FormFutura offers a large selection of filaments in all kinds of colors and sizes. Also check out our other filaments.